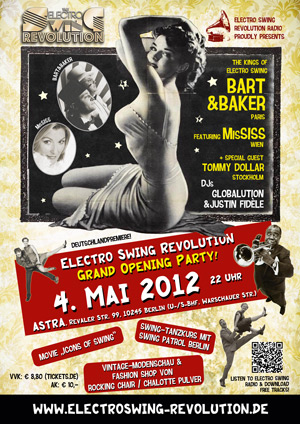 Wuhoooooo! Freunde des Electro Swings: Morgen wird's ein Fest – die Alt-Herren digitalisierten Jazzvertontung Bart & Baker geben ihr Debüt Berlin. Astra Club. Ohai!
Als Headliner haben sich die französischen 'Kings of Electro Swing' Bart & Baker aus Paris angekündigt. Sie haben in Frankreich längt Kultstatus und werden bei ihrem ersten Deutschlandauftritt von der Soultango-Queen MisSiss aus Wien und Special Guest Tommy Dollar aus Stockholm unterstützt. Bart & Baker haben durch die Veröffentlichung ihrer bisher fünf erfolgreichen Electro- & Vintage-Compilations weltweit Bekanntheit erlangt. An den Turntables werden die Electro Swing Revolution-DJs Globalution & Justin Fidelè bis in die Morgenstunden den Dancefloor des angesagten Astra-Clubs befeuern.
http://www.bartandbaker.com/
SPECIAL 1: Swing-Tanzkurs mit Swing Patrol Berlin!
http://swingpatrolberlin.com/
SPECIAL 2: Modenschau und Vintage Lounge von den angesagten Berliner Labels Chalotte Pulver und Rocking Chair!
http://www.rockingchair-berlin.de/
http://chalottepulver.de/
SPECIAL 3: Das Event wird durch den Film "Icons of Swing" umrahmt, der einzigartige Original-Musical- & Filmszenen aus der goldenen Ära des Swings der 30er bis 50er Jahre zeigt.
SWING YOUR THING!
Mehr hier: http://moni.bureauexport.org/2012/04/bart-baker/
und natürlich hier.
http://www.electroswing-revolution.de/
[via @Leobard]