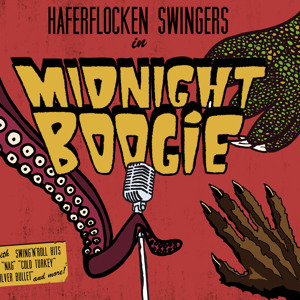 OMG! Haferflocken Swingers haben 'ne neue Scheibe "Midnight Boogie" und präsentieren diese im vollen Umfang am Samstag im Monarch Kreuzberg.
Das Album "Midnight Boogie" ist eine frische Mischung aus retro Rock'n Roll mit klassische Haferflocken Nuancen. Die 11 Kompositionen erstrecken sich von Früh Jazz in der Art von Raymond Scott bis rockige Lieder geprägt mit Boogie Woogie und sogar Rhythm & Blues Einflüssen – das ganze immer mit dem charakteristisch Haferflocken Big Band Sound.
Hier mal rein hören:
HAFERFLOCKEN SWINGERS
presenting their new Album "Midnight Boogie"
The ELECTRIC SIDESHOW SOUNDSYSTEM feat. EARL ZINGER
celebrating the new 7″ – release "Give Me Your Number / Bla Bla Bla"
Dj ́s
Rhythm n Blues, Swing, Jive, Rockabilly, Popcorn and other Vintage goodies.
with Mystic N. & Don Rogall
Burlesque performance
With Marlene von Steenvag – THE DIVA EXTRAORDINAIRE !
http://haferflocken-swingers.com/