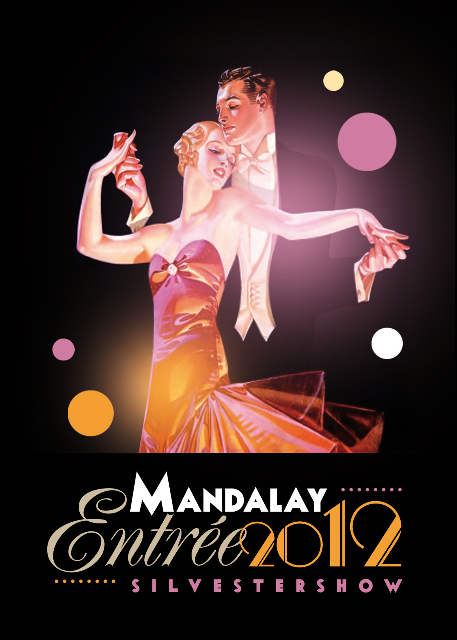 31.12.2011 / 21:00 Uhr / Eintritt Abendkasse 20€ / Vorverkauf 17€ Early bird an der BAR im Mandalay bis zum 03.12.2011 12€ !!
DJs:
DJ Cram (Elektro)
DJ Swingy the Kid (Swing)
…
Band:
LUX GOLD
Burlesque:
Amber Vanilla (Berlin)
ZWEI FLOORS, LIVE-QUARTETT, DJ-SETS, BURLESQUE, ABSINTHE
DJ-Sets, Specials und Live Sound die ganze Nacht.
Auf dem Mainfloor serviert Cram druckvolle Elektrobeats, während der 2nd Floor eine Zeitreise in die 30er Jahre beschreitet:
Knisternde Sounds von DJ Swingy the Kid und Swingklassiker, live eingespielt von der Band Lux Gold, versilbern den Abend. Eingetaucht in ein funkelgrünes Absinthe-Ambiente prickeln Sektpyramiden mit Burlesque Shows von Amber Vanilla um die Wette.
Hipster und Lindy Hopper tanzen bis zur glücklichen Erschöpfung in der Silvesternacht und begrüßen das neue Jahr.
Auf dem Swing Floor hält mit Plattenselekteur Swingy The Kid eine schwungvolle Tanzrevue von Jump Blues, Balboa, Big Band R&B bis Flic Flac Jive Einzug.
An seiner Seite: Lux Gold. Vier Musiker mit Trompete, Bass, Gitarre und Drums bewaffnet, kreieren lässigen Swing und druckvollen Sound, der das Publikum zum Schwingen bringt.
Lux Gold spielen Swingklassiker, eigene Kompositionen und ausgesuchte Raritäten. Wer diese Band erlebt hat, schwärmt von ihrer ansteckenden, wilden Energie.
Hot Swing Deluxe!
Ich freue mich mit der Hamburger Swing-Jugend und alle die kommen ins neue Jahr zu swingen
LG euer DJ Swingy the Kid