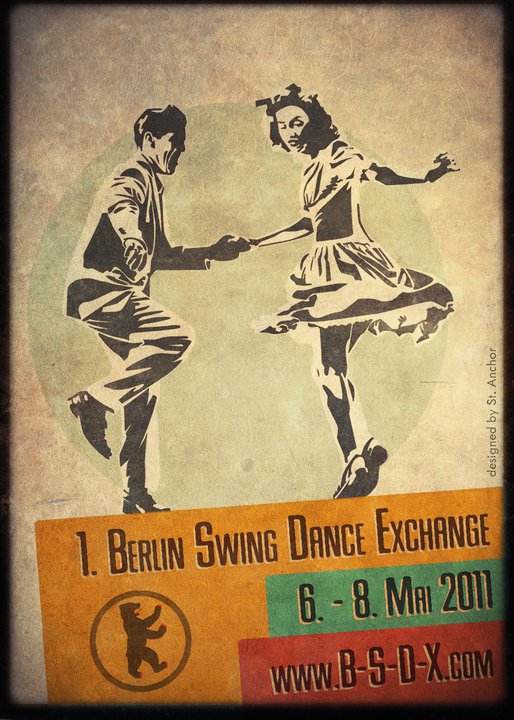 UPDATE: Uhrgs, ich seh gerade die Party am Samstag alleine kostet 30EUR( Dreißig !!!)). Das find ich mal eindeutig zuviel. Das ist weder der Ort noch die Band Wert. Sorry.
Juhu, am Wochenende ist es endlich soweit. Das (erste?) Swing Dance Exchange Happening in Berlin – yay! 3 Tage Parties an vielen unbetanzten Orten und am Samstag mit einer wirklich super guten Big Band! (OT)
Friday May 6:
Welcome Party for the 1st Berlin Swing Dance Exchange!
5 different DJ´s
DJ Battle
Jack´n`Jill Fun Competition
Solo Charleston Fun Competition
Dancing all night long in a new venue!
Saturday May 7:
Daytime for yourselves! Breakfast, sightseeing, just hang around and BERLIN!
Around 6.30 pm SHIM SHAM Flashmob at Brandenburg Gate!
Saturday Night Party:
Live: THE CAPITAL DANCE ORCHESTRA, directed by David Casinius
This is a 14 piece Big Band from Berlin! They are amazing and they will play for us dancers!!! We have a really beautiful Ballroom as well!
Different DJ´s
Show Acts
And Dancing again all night long!
Sunday May 8:
Just for Fun: Football Game and Outside Dancing around Mauerpark!
Funeral Procession NEW ORLEANS STYLE from Mauerpark to Frannz
History Swing Talk with Swingin' Swanee & Wuthe am Grammophon
Farewell Dance – Lindy Hop, Balboa, Collegiate Shag and Blues! Whatever you prefer!
No Workshops! No Level! Just dancing and having fun!
http://www.youtube.com/watch?v=RsfSRXCu-xU
Mehr: http://www.B-S-D-X.com
Facebook: www.facebook.com/BerlinSDX